Cars.com illustration by Paul Dolan
Many rental car companies offer greener solutions to a traditional gasoline-powered rental car. Hertz, Avis and Enterprise all offer rental electric vehicles, usually Tesla Model 3 sedans or Model Y SUVs, but sometimes a Polestar 2, Nissan Leaf, Tesla Model S or Kia Niro EV. You can also find all manner of privately owned EVs on the car-sharing rental app Turo. But landing in a strange city and popping into an EV instead of a Hyundai Elantra can add a considerable amount of stress to a business trip or vacation because operating an EV is simply not the same as a gasoline vehicle.
Renting an EV requires planning, a bit of research and the knowledge that many new EVs (especially Teslas) don't work the same as traditional gas-powered cars. They differ greatly in many ways, from how to open and start the thing, to how far it can go before needing charging and how to charge it.
Related: Cars.com's Best Electric Vehicle of 2022
That shouldn't dissuade you from giving one a try, however. Armed with a few tips and preparation, renting an EV to see if you like the experience before plunking down the cash to buy one can be relatively simple. Below are five easy steps that will help you prepare to rent an electric car, steps that could save you a big headache once you get behind the wheel.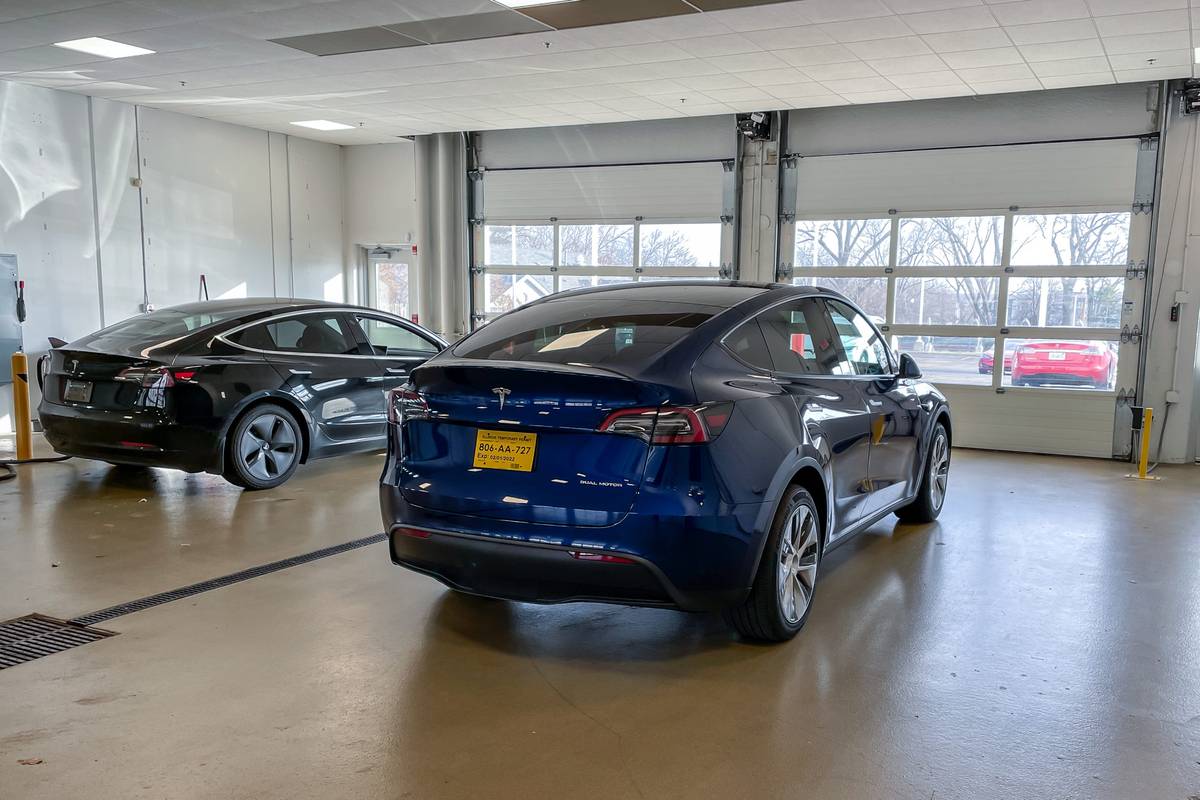 2021 Tesla Model Y | Cars.com photo by Joe Bruzek
1. Determine How You'll Use It
How are you going to use this rental car? Are you just going from hotel to office and back, maybe out to dinner, for a few days of a business trip? Are you planning a city-to-city highway drive? Will you be taking your family on a weeklong beach vacation?
How you use the vehicle — or perhaps more appropriately, how quickly you think you'll be depleting the battery — is key to figuring out the next step: how and where to charge it. Range becomes an issue here, as well, so match your vehicle selection to how you'll be using the car.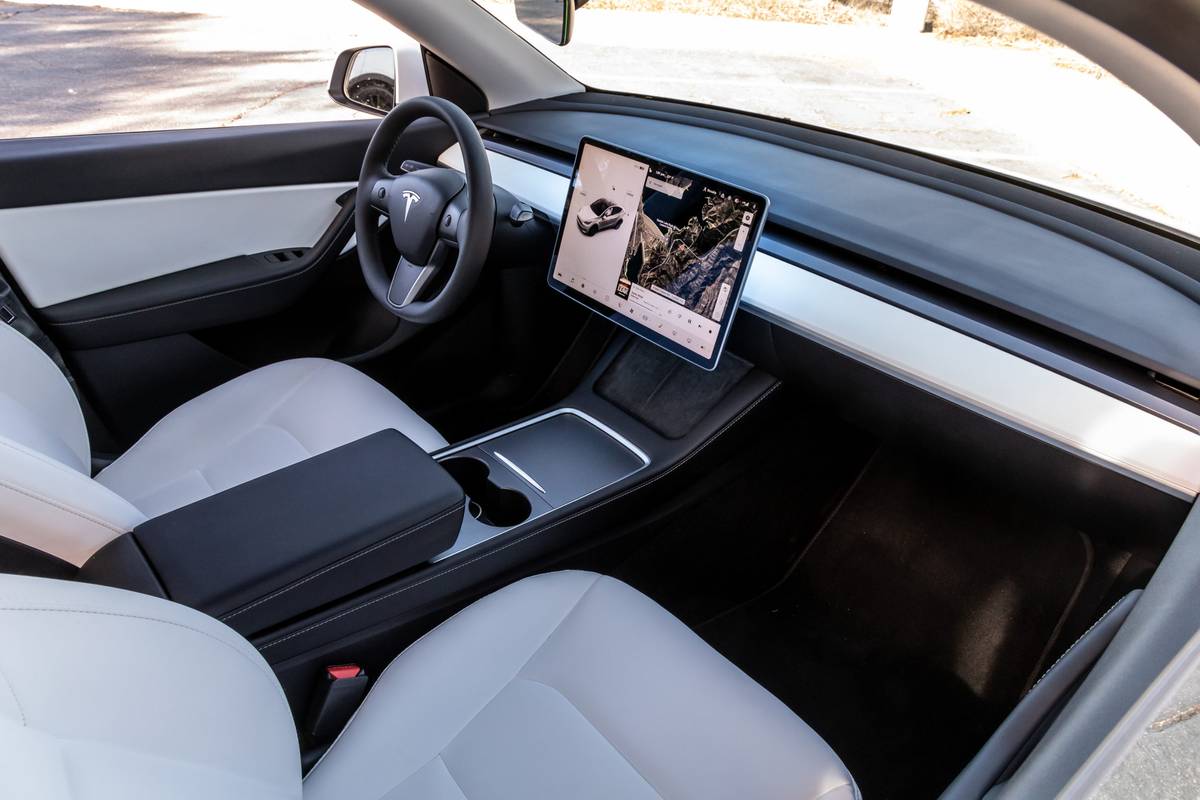 Tesla Model Y with updated center console | Cars.com photo by Christian Lantry
2. Find the EV's Driving Range
The most critical issue in learning about what you're going to rent is how far can the vehicle go on a charge. These ratings are available online from the EPA, and the rental company itself should also have comprehensive information about the car's range.
Why is it important? Because while range isn't critical in a gas car since refueling one can be done in minutes from thousands of around the country, for an EV, how far you can go on a single charge becomes very Important because recharging the car can take anywhere from half an hour to days, depending on what you've rented and where you plug it in.
Most rental EVs have a fully charged range of more than 200 miles, but that will vary depending on how, when and where you drive it. Your range will not be what the advertised distance is if you go nuts on the highway and drive it like a sports car or in colder conditions. Drive it, slowly, in warmer weather and with an eye on efficiency, and your chances of getting that advertised range go up considerably.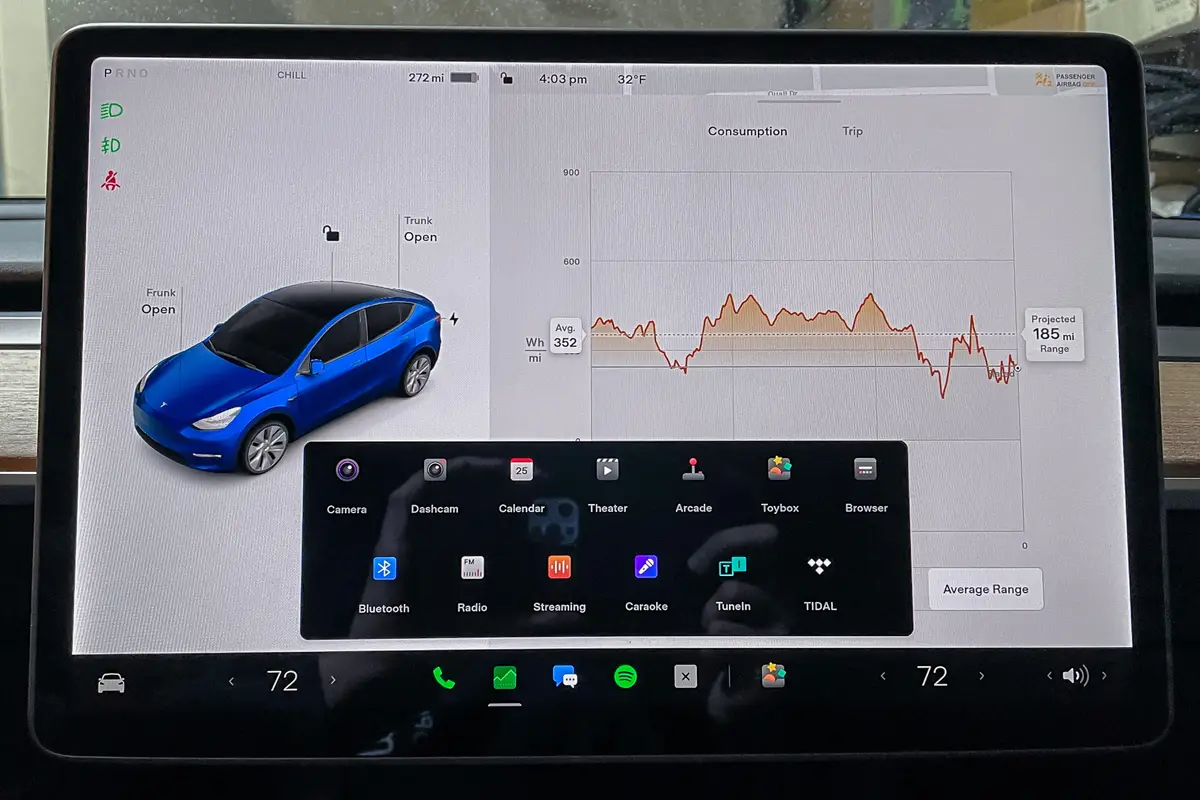 2021 Tesla Model Y Software V11.0 | Cars.com photo by Joe Bruzek
3. Learn How to Work It
It will save you a lot of grief if you review materials in advance of your rental, trust us on this one. If you've never touched a Tesla before, for example, know that they do not work like conventional cars: From how it opens to how it starts and how you adjust the mirrors to how you use the windshield wipers, Tesla very much does its own thing, and there will be a learning curve associated with your first time using one. The automaker has videos and Hertz has a comprehensive FAQ for how to operate one. Much of a Tesla's operation is not intuitive and differs from how other cars work.
Other vehicles from brands like Kia and Nissan operate more like a conventional car, easier to just "get in and go," but there's a good reason Tesla outsells all competitors in this category — its vehicles are special in many ways.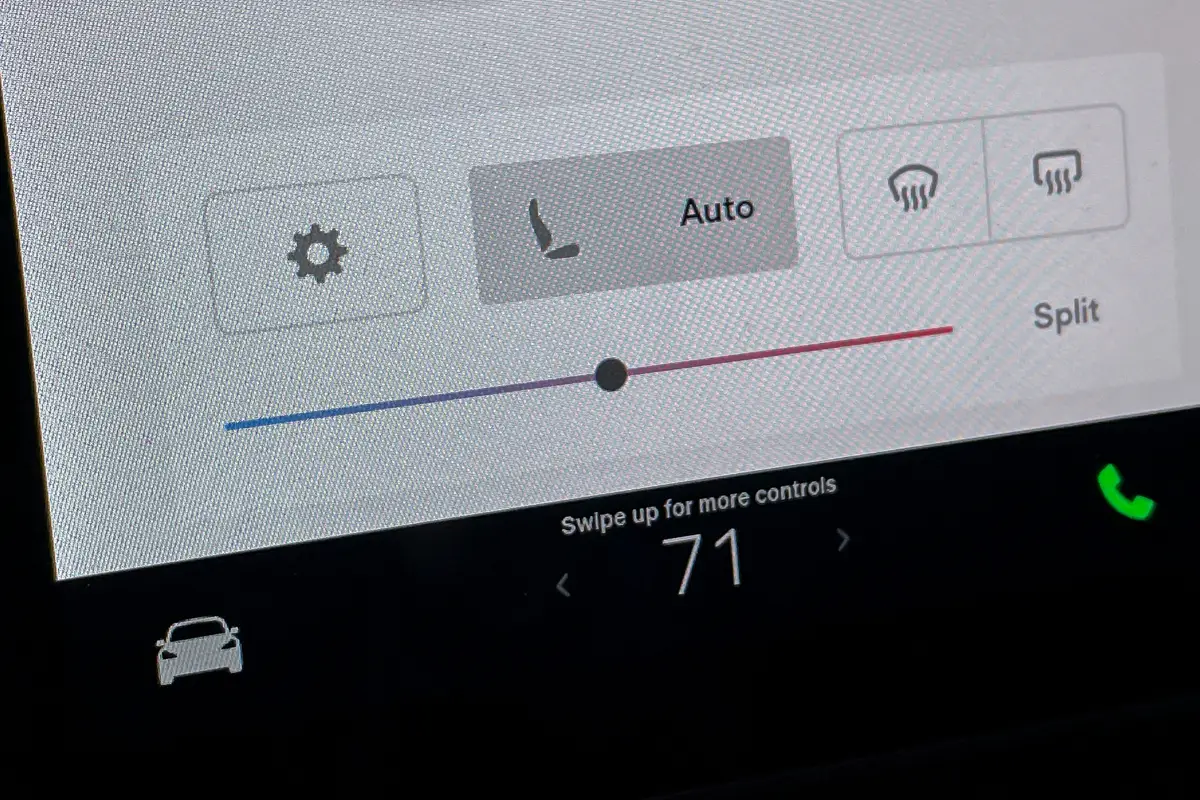 2021 Tesla Model Y Software V11.0 | Cars.com photo by Joe Bruzek
4. Determine How You'll Charge
Your biggest challenge in renting an electric car will be charging it. If you're only driving a few miles a day for the period of your rental, it might not be a big deal; As long as you return your car with a minimum of 10% charge (like Hertz requires of its Tesla rentals), you'll be fine. But if you do start running down the battery and need to charge, knowing where and how you can do this before you set out on your journey is helpful.
Related: What Is Level 1, 2, 3 Charging?
First, determine what the car requires. All EVs can charge on a Level 2 charger, the public chargers you see in a lot of parking garages or sometimes at hotels or shopping malls. You should assume these are good for adding around 20 miles of range per hour to your EV (some may be faster, some slower). Charging a Tesla at a non-Tesla charger requires an adaptor, which rental car companies typically provide with the kit. Most new EVs can also use a DC fast charger, which are more powerful chargers that can recharge the car a lot more quickly than the slower Level 2 chargers; assume these chargers can add anywhere from 10-20 miles per minute when plugged into your EV.
But not all DC fast chargers are created equal, and not all EVs can charge at the same power, either. For example, if an EV can only accept 150 kilowatts of power, plugging into a 350-kW charger won't make it charge any faster than 150 kW. One of the reasons Teslas are so popular is that there's a large network of Tesla Superchargers that can recharge the vehicles fairly quickly, depending on how empty the car is and how powerful that Supercharger station is. There are three primary Supercharger types: 72 kW, 150 kW and 250 kW. They're also dead easy to use — pull up, open the charge door, plug in and it automatically does its thing.
The third option, which really isn't a good one, is to use the Level 1 household plug charger that usually comes with the car, probably located somewhere in its trunk. For a modern EV, recharging with household 110-volt current will take literal days (3-5 miles of range per hour), and it's doubtful you'll have time for that if you've rented your EV.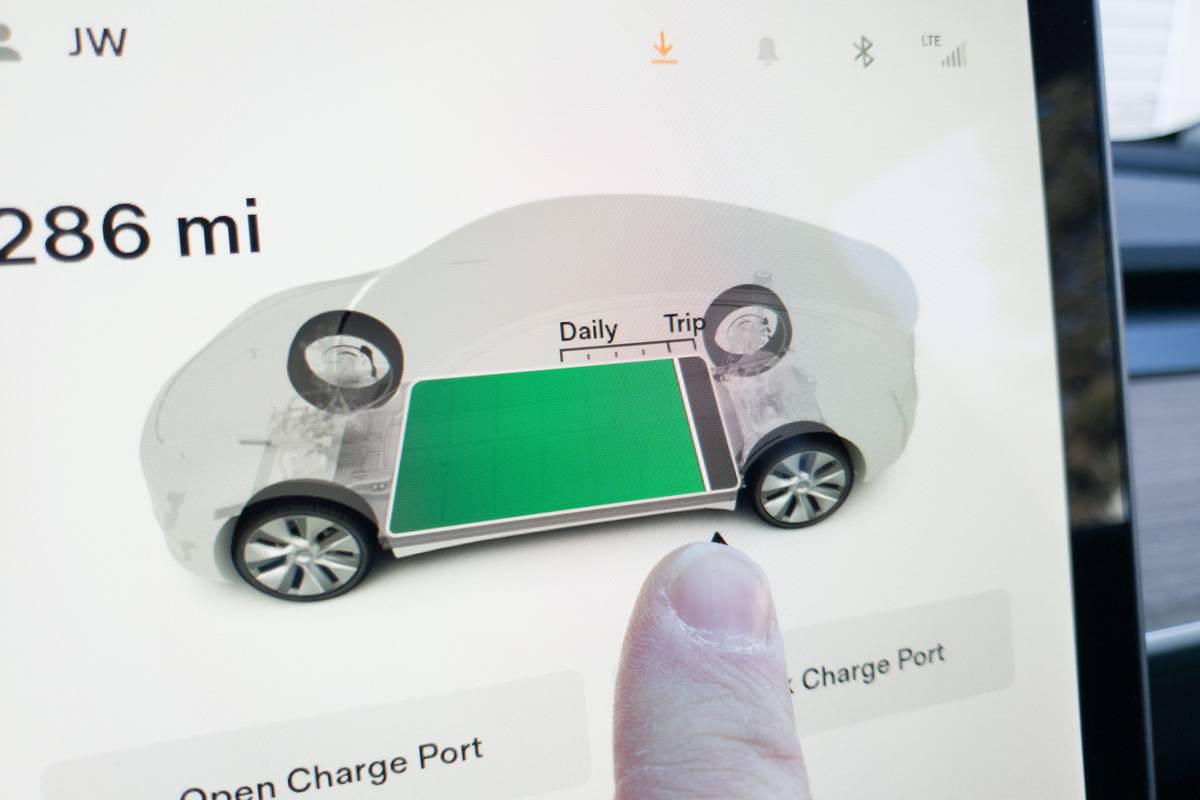 Like most EVs,, the Tesla Model Y lets you limit how much the battery charges. | Cars.com photo by Joe Wiesenfelder
5. Find EV Chargers
Figuring out where to plug in is also key. Outside of populated urban areas, DC fast chargers are mostly found along popular highway corridors, so your route options might be limited to charger locations versus the shortest distance.
Before you leave on your trip, download an app like PlugShare to your smartphone, which allows you to see what available charging options are, and where. Call the hotel you're staying at to see if they have any EV charging stations or know of some nearby. Plan for the time it takes to charge the car into your trip — if you're driving from city to city, figure out where you're going to stop to charge. Renting a Tesla helps with this task because the navigation system can be set to pick the route based on charging-station availability, and it will automatically guide you to chargers should the car decide you're not going to make it to your destination on the available charge; It's pretty handy and still rare among non-Teslas. For non-Teslas and EVs that don't include this type of trip planning, there are apps to help with finding the route with the most charger availability.
More From Cars.com:
Should You Rent an EV?
As stated, renting an EV is a great way to try out that EV lifestyle without doling out tens of thousands of dollars on purchasing one yourself. It could also be more affordable than refueling a rental with gasoline, though what type of charging you pick will impact how much you save. And if you're already familiar with EVs, perhaps already owning one, then you already know the pitfalls and challenges that come with modern ownership — this makes you uniquely suited to renting one for business or pleasure.
If EV use is completely new to you, evaluating your rental use case based on the above criteria is critical before pushing that "Reserve" button. It will save you plenty of headaches on your actual trip.
Related Video:
Cars.com's Editorial department is your source for automotive news and reviews. In line with Cars.com's long-standing ethics policy, editors and reviewers don't accept gifts or free trips from automakers. The Editorial department is independent of Cars.com's advertising, sales and sponsored content departments.