Manufacturing technology orders deipped in May, according to the Association for Manufacturing Technology.
Association for Manufacturing Technology
The Association for Manufacturing Technology (AMT) has reported that orders dropped in May for manufacturing technology and for cutting tools used in the manufacturing process.
Manufacturing Technology Orders
Manufacturing tech orders were down 14% from April, but were almost the same as last year. After 12 months of highs, the slight dip is nothing to worry about, AMT officials said.
According to AMT's report, May orders for manufacturing technology dropped to $441.2 million. Orders were equal to May 2021 orders with a modest 1% decline. Year-to-date orders reached $2.42 billion, a 20% increase over 2021 orders through May.
"Order activity has begun to moderate, but given the slight decline from record heights, 2022 is shaping up to be one of the best years over the last two decades," said Pat McGibbon, chief knowledge officer at AMT. "In any other year, numbers like we saw in May 2022 would be one of the high points, but after the run we've seen the previous 12 months, the monthly change is more of a return to normal than a dramatic pullback."
Since May 2021, the average monthly units ordered and their values ​​have been in the top 25% of the program's entire history. "There have been modest signs of inflation beginning to take hold in prices for manufacturing technology, but the majority of the rise in average value over the last several months is primarily the result of increased automation as a percentage of the total order," said McGibbon . "Difficulties filling vacancies over the past several months, concern over rising materials prices, and continued conflict in Europe had increased risk aversion among customers, leading to more capital investment decisions.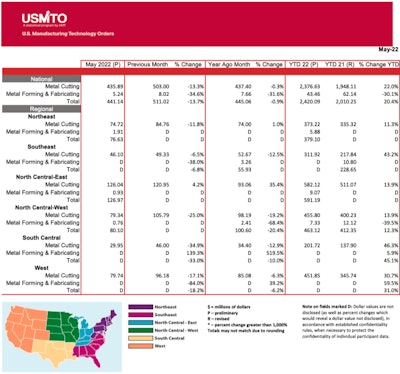 "The impact of the pandemic on supply chains led to the reinvestment in industries that were nearly shuttered by imports. Industries like the manufacture of mold and dies, fabricated metal products, screws, and hardware have made expanded capacity well beyond their pre-pandemic levels." McGibbon continued: "In addition to securing supply chains from public health disruptions, there may be a renewed push to further reshore production, given the recent dangers to intellectual property outlined by the US and UK intelligence agencies."
Manufacturing Cutting Tools Orders
In a separate report this week, AMT and US Cutting Tool Institute said cutting tool orders were $175.4 million in May. This total was down 0.6% from April's $176.5 million and up 9.1% when compared with the $160.7 million reported for May 2021. With a year-to-date total of $875.8 million, 2022 is also up 9.1% when compared to the same time period in 2021.
"The May numbers are very similar to April and seem to send the same message: that manufacturing continues to struggle with the issues of inflation, the supply chain disruptions, and the shortage of human resources," commented Brad Lawton, chairman of AMT's Cutting Tool Product Group. "Again, to sum it up with an overused word, 'uncertainty' will remain with us for an extended period of time."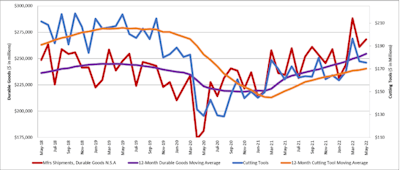 The Cutting Tool Market Report is jointly compiled by AMT and USCTI, two trade associations representing the development, production, and distribution of cutting tool technology and products. It provides a monthly statement on US manufacturers' consumption of the primary consumable in the manufacturing process – the cutting tool. Analysis of cutting tool consumption is a leading indicator of both upturns and downturns in US manufacturing activity, as it is a true measure of actual production levels.
"Leading indicators point to a bright finish for the cutting tool market this year after the sector's seasonal softening in July and August," said Pat McGibbon, AMT's chief knowledge officer. "Manufacturing capacity utilization remains over 80%, and the Institute for Supply Management's PMI index is at 53; Both of which signal continued expansion in the manufacturing sector. Growing backlogs and delivery rates of manufacturing technology equipment will yield a significant expansion in manufacturing capacity. This surge in production capacity will support continued growth in cutting tool shipments through early 2023."