Electric pickup trucks are proving to be some of the hottest, most desirable EVs on the market. The demand is high for these strong and silent machines, and if the all-new and highly-capable Rivian R1T, Ford F-150 Lightning, and GMC Hummer EV are examples of what we can expect to see from electric pickups in the future, consider us sold.
Electric pickups offer a whole new way to haul around gear and explore the backcountry. These trucks offer massive torque with a near-instantaneous response. Bigger batteries, leaps in charging technology, and improved infrastructure down the line will help make a strong case for these machines to become primary modes of transportation for those that want them. Here are the trucks we anticipate will hit the market in 2023 and beyond.
Alpha Motors Wolf
Irvine, California startup Alpha Motor Corporation is clearly tapping into a demographic that not only enjoys off-roading but yearns for the old-school size and style of 1980s compact trucks. The Wolf (regular cab), Wolf + (4-door), and the most off-road-capable Superwolf are said to offer all batteries that can deliver a driving range in the 250-300-mile zone. The top 4WD dual-motor Superwolf can hit 60 mph in 6.5 seconds and tow a 6,724-pound trailer. It also comes with a full host of racks and innovative cargo storage solutions for backcountry adventure.
These trucks are cool, but Alpha hasn't released many details about the company itself or the source of the batteries. Alpha says the Wolf has a base price of $36,000, while a fully dressed Superwolf will have a price that stretches up to $56,000. Those seem like optimism numbers, but if they hold, this could be one of the best bargains in the EV truck game. Reservations for these trucks are open on the company's website, but delivery target dates have not yet been announced.
Atlis XT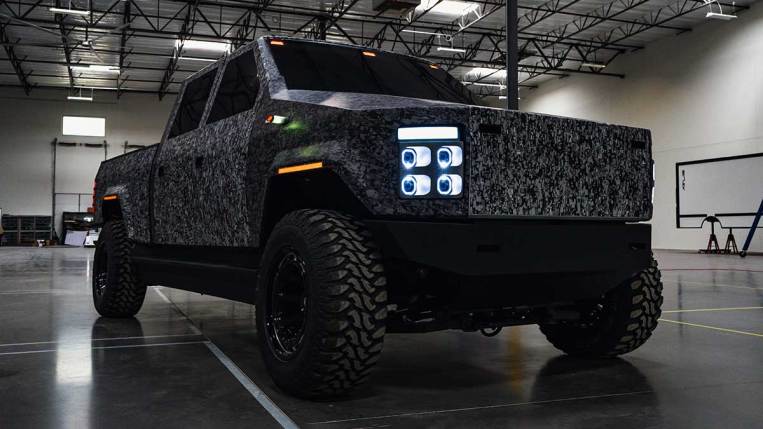 Atlis Motor Vehicles hits the right notes for a startup breaking new ground. The company's new XT truck could be the first heavy-duty EV pickup thanks to a chassis that's adaptable enough to support commercial and recreational vehicles — including those with dual rear axles. After all, the minimum wheelbase here is 144 inches, about the same as a full-size crew cab pickup — and that number can grow to over 170. Atlis says the truck can tow 35,000 pounds and handle 5,000 pounds of payload. The XT pickup has 4-wheel independent suspension with 4-wheel steering and a "load-response" air suspension. Basic models will have 10 inches of wheel travel and a foot of ground, but more off-road focused clearance trucks will have 15 inches of clearance and more than 12 inches of travel.
The four traction motors are said to produce a total of 600 horsepower and will use battery packs upwards of 250 kWh for a range that tops out at 500 miles. Atlis says the trucks can recharge their packs from 0-100 percent in just 15 minutes using a 1.5 MW charger. Oh, and there's a massive 18 cubic-foot frunk (front trunk) too. The trucks will reportedly start at $45,000. These are lofty and impressive numbers, so we really hope this one makes it to production soon.
Canoo Pickup Truck
This could be the most unique EV pickup of them all. Small startup Canoo promises to launch this radical cab-over style electric truck in 2023. This rig is built upon Canoo's Multi-Purpose Platform, with a foundation underpinning a fully enclosed van the company calls a "lifestyle vehicle," as well as a delivery truck. The Canoo architecture can support batteries as large as 80 kWh.
The 500-horsepower truck is said to offer a full-size payload (1,800 pounds) with a 6-foot bed that can extend to eight. The bed also includes modular dividers, storage drawers, steps that slide out from the body, fold-down tables, and a handy front trunk. But because the cab is located over the front wheels, the short 112-inch wheelbase and overall trim length make it more like a short midsize truck. The Canoo Pickup will be available with rear or all-wheel drive and promises a range of over 200 miles. The truck is expected to hit next year.
2024 Chevrolet Silverado EV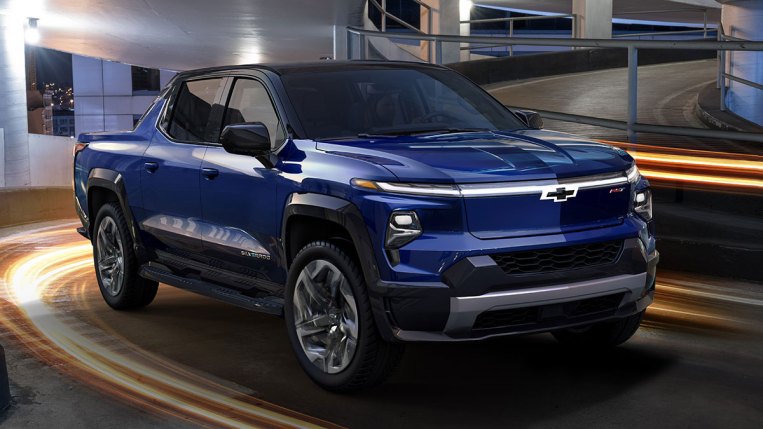 If the overall performance of the GMC Hummer EV sounds appealing but you just don't care for the brazen design, this Chevy might be the right truck for you. The 2024 Silverado EV offers much of the same capability in a tamer wrapper. The new Chevy rides on the same dedicated EV architecture as the GMC Hummer.
Don't let the tamer style fool you — the Silverado will pack plenty of capability. Chevy promises an electric range on top models of 400 miles, a 0-60 mph time of 4.5 seconds, and a torque output topping 780 lb-ft. Those are solid numbers to be sure. Plus, Chevy says the EV will have the capability to tow a 10,000-pound trailer. The company will offer the truck in a sporty RST trim, as well as a work-oriented WT model and an off-road capable Trail Boss. GMC has already teased a Sierra version of this EV.
Ford Ranger EV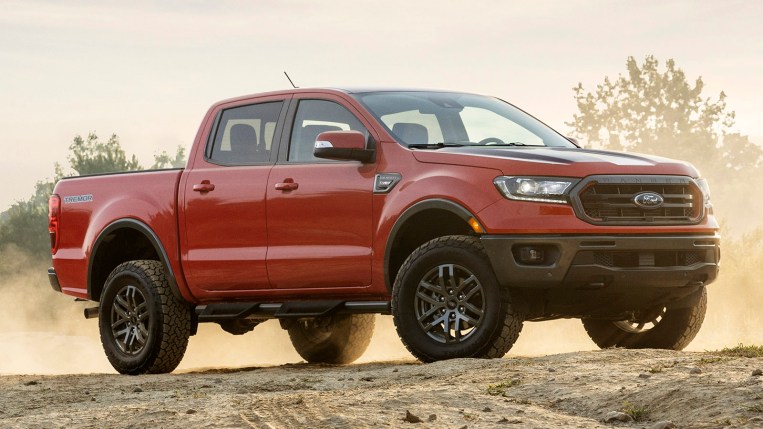 Ford is already enjoying positive reviews and surprisingly robust demand for its F-150 Lightning electric pickup. Could a smaller version be far behind? Ford has already announced that new EVs are in the works and it seems likely that the company will offer an electric version of the next Ranger — due as an all-new model next year. Ford is sharing its truck architecture with VW, and both companies are bullish on EVs. A small electric pickup could make sense, especially if the development costs are spread over two companies' offerings. Plus, the Ranger's globally-used chassis has served as the basis for Ford SUVs, including the Bronco, so even more EVs could proliferate from a midsize EV development.
Lordstown Endurance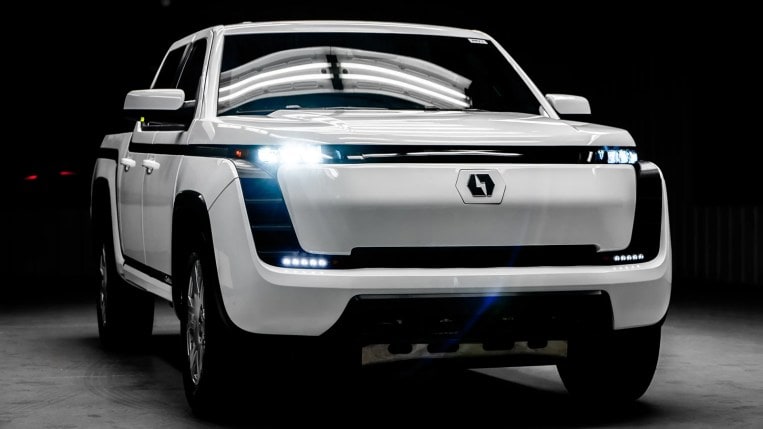 The road to production has been bumpy for Lordstown Motors. GM sold off its 7.5 million shares of the company this year. To make up the cash, the company offloaded its Ohio plant to Foxconn for $230 million; Foxconn will build the truck under contract.
And what a truck it is. The Endurance is said to deliver 600 horsepower through innovative in-wheel hub electric motors, which can help reduce the number of parts and improve reliability over conventional designs. Although Lordstown has beta production vehicles driving around, the company hasn't nailed down some key specs yet. The estimated driving range for the Endurance will be around 250 miles at a starting price of around $60,000. The truck is also said to be able to handle a 7,500-pound trailer. That's a good number but quite a bit below the capability of Rivian's R1T, GMC Hummer EV Pickup, and many other promising trucks. If Lordstown doesn't run into any more financial snafus, we should see the Endurance by next year.
2024 Ram 1500 EV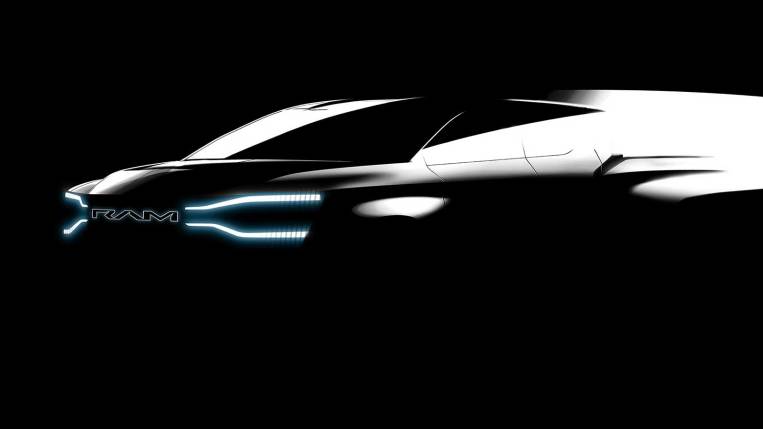 Ram is going big when it comes to electrification. The company is developing a dedicated STLA electric vehicle chassis for the new 2024 Ram 1500 EV with the battery pack riding between the frame rails underneath the cab. Ram says the truck will have driving ranges as high as 500 miles on a charge. It will also offer 150 kWh DC fast charge capability. The look of the truck has yet to be revealed, but thanks to some teaser photos, it seems Ram will follow Chevy's move — with an all-new design and sheet metal instead of modifying the look of their existing truck as Ford has done with the F-150. Ram offers electrified solutions for its larger heavy-duty trucks as well, but launch dates for those models are likely further down the line.
Rivian R2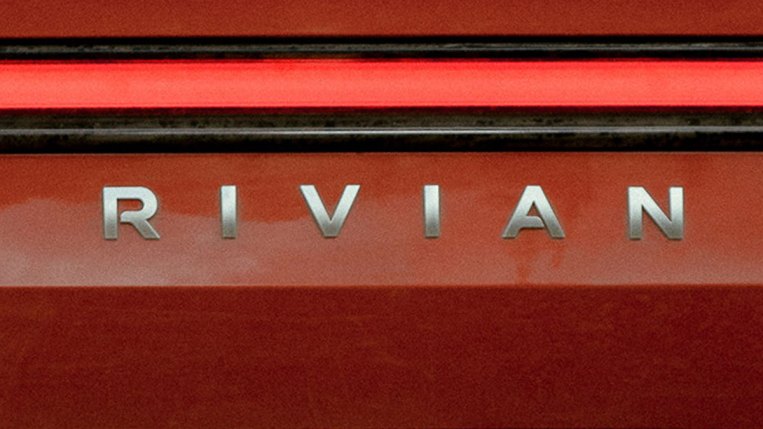 Rivian's R1T electric pickup truck has proven itself an impressive piece of kit. The truck accelerates like a sports car, has the ground clearance and capability of a true 4×4, and packs the ability to tow a trailer upwards of 10,000 pounds. These trucks are in short supply. Some lightly used models are commanding prices on auction sites well north of six figures.
Is there room below that for a smaller, less expensive truck? Rivian certainly thinks so. The R2 range of vehicles (pickup and then, likely, an SUV) will be dimensionally smaller than the R1 and come with a price point that's more affordable too. These new R2 vehicles could become the volume vehicles for the brand once production ramps up. The company's Normal, Illinois plant will produce around 25,000 trucks this year. However, it can churn out 150,000 vehicles a year with the ability to expand that number to 200,000.
Tesla Cybertruck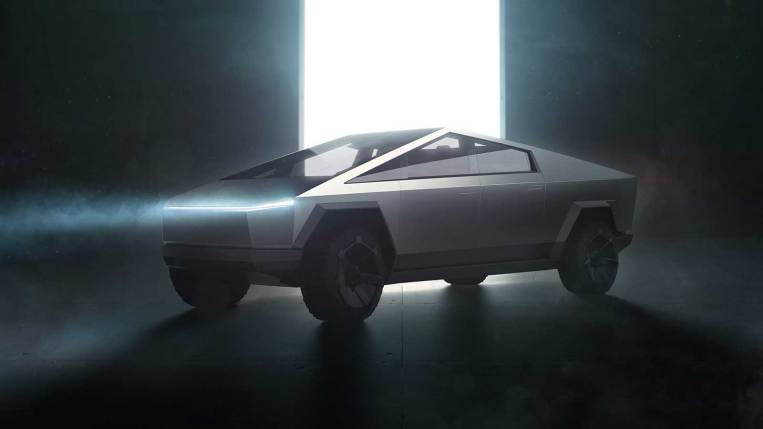 Elon Musk's wildly futuristic electric pickup was unveiled way back in 2019, becoming one of the most highly anticipated launches of any new EV. Production was supposed to begin last year but delays have pushed that date out to 2023. Tesla had promised a base price of $39,990, although that figure seems a bit optimism in today's economy.
Still, this truck should be an absolute beast when it arrives, with its towing capacity of 14,000 pounds and a range of 500 miles. Six people can ride inside with the rig having a useful pickup box that measures nearly 6.5 feet, including neat loading ramp for transporting ATVs or bikes. Tesla will offer single-, dual-, and tri-motor configurations with pricing that stretches upwards of $70,000. The top model should hit 60 mph in a mind-numbing 2.9 seconds. However, all models are said to offer a generous 16 inches of ground clearance.
2024 Electric Toyota Tacoma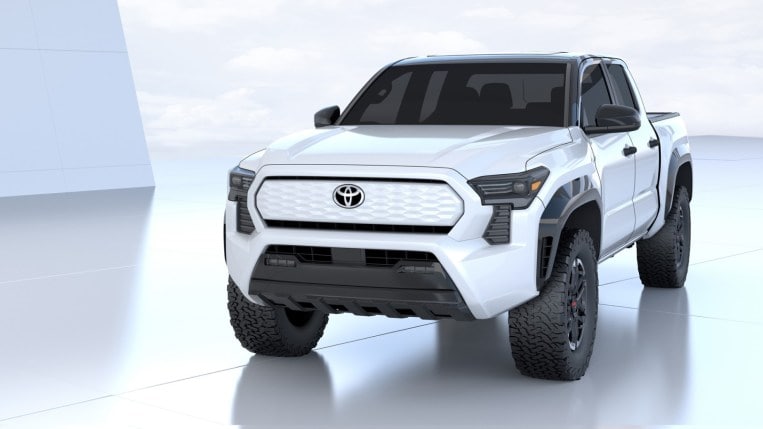 The Tacoma is the benchmark midsize pickup truck. It's the one more people buy each year — and it's been that way for more than a decade. Toyota is preparing an all-new Tacoma for launch in 2024, and it could be joined by an electrified version. The evidence? A recently unveiled electric concept truck that looks to be about the size of a Tacoma. It's a clear hint at what a Toyota electric would look like (compared to gas), thanks to the closed-off grille design. The large tires and excellent approach angle and ground clearance indicate that when the EV does come, it will be dressed for off-road duty. If the EV does indeed arrive in 2024, the Tacoma could be the first midsize EV pickup to market and get a jump on many competitors.
2026 Volkswagen Scout EV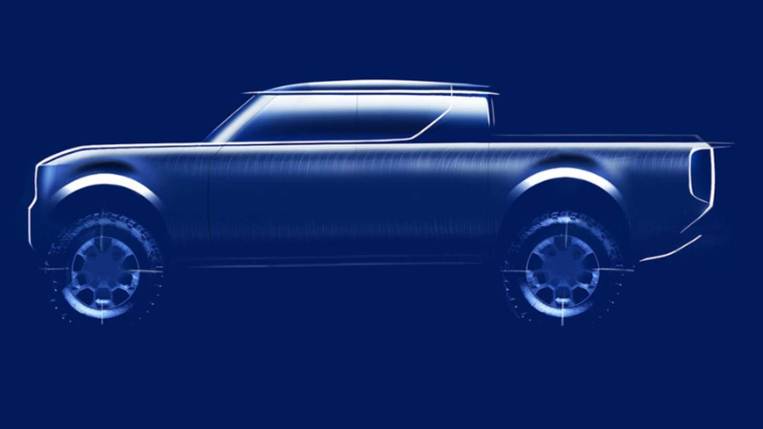 Yes, you read that correctly. VW has resurrected the Scout nameplate, a moniker once used for International Harvester's line of SUVs from the 1960s and 1970s. Judging by the concept art, the new VW Scout (scheduled for the '26 model year) should deliver a dose of retro-cool as well as a potent electric powertrain. It's expected that the chassis and mechanicals will come from a collaboration with Ford. And since the Scout is likely midsize in its dimensions, it should have the same powertrain as the electric Ranger. We know little about the specs, but VW promises a drivable mule will arrive next year and, with any luck, have more details too.