Courtesy Space Hardware Club
Three CanSat teams from The University of Alabama in Huntsville (UAH) Space Hardware Club (SHC) placed first, second and third in the nation during recent international competition in the American Astronautical Society-sponsored aerospace design and production event.
Team Spaceshot was first in the nation, while Team Star Saber finished second and Team Highwire was third. In overall competition, Team Spaceshot took eighth, while Team Star Saber was 13th and Team Highwire finished 16th.
All three teams from UAH, a part of the University of Alabama System, were composed mostly of freshmen and sophomores, and it was the first CanSat experience for everyone.
CanSat is an annual student design-build-launch competition open to teams from universities and colleges that design a space-capable CanSat with payload that is launched from a rocket and descends with a parachute. The CanSat must survive the forces incurred at launch and deployment. Launches are recorded by an onboard video camera.
Teams follow an approved competition guide during the development and construction phases and then compete against each at the end of two semesters to determine the winners. This year's competition was June 9-12 at Virginia Tech in Blacksburg.
"As a team lead, I learned that it is important to create relationships among team members and boost motivation to make progress on the project," says Haylee Winters, who led Team Spaceshot. "As an electrical team member, I learned that it is important to jump in and learn as much as you can because even if you come across something that doesn't seem relevant, it will likely come up later in the project."
Ocean Bowling, Team Star Saber's electrical sub-team lead and an aerospace engineering freshman from Louisville, Ky., learned about perseverance.
"The main takeaway I got from this was that it takes teamwork, time and commitment to make something even as small as the CanSat," Bowling says.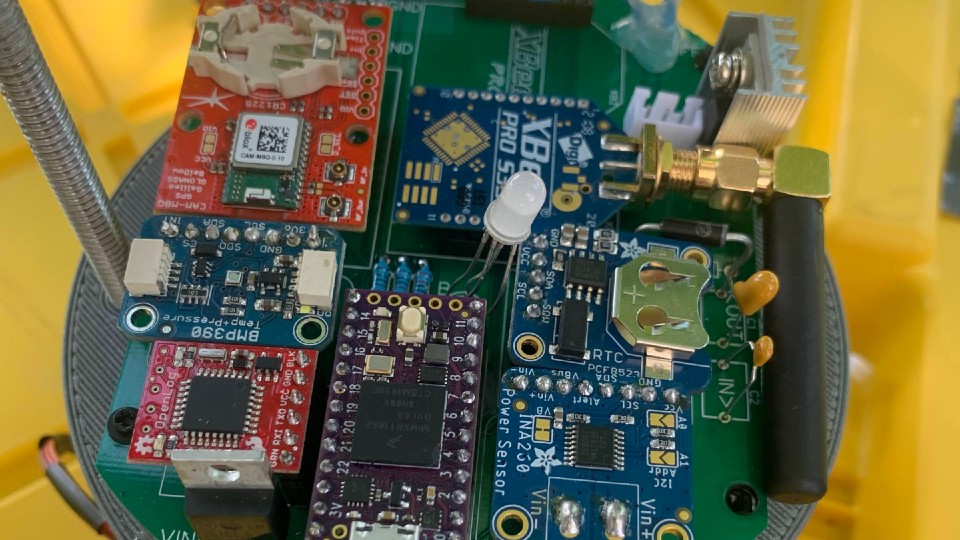 A peek at the circuitry inside Team Star Saber's competition CanSat.
Courtesy Space Hardware Club
Samantha Quartuccio, Team Highwire software sub-team lead and a freshman in computer engineering from Charleston, SC, says the CanSat experience has been one of the most rewarding for her so far.
"Not many universities have such thorough engineering programs for freshmen to experience, especially by themselves," Quartuccio says. "It was really satisfying to see our ideas translate from paper into reality at the lab, and I can't wait to get back in the labs and apply what we've learned over the course of the past year."
Aidan Barton, Team Spaceshot's electrical sub-team lead and an electrical engineering sophomore from Spring Hill, Ala., learned about project dedication.
"We could have spent more time working on the CanSat leading into the last month of competition," Barton says. "Failing to do so created a massive crunch period for a few weeks before competition, which was especially difficult because many team members were also working on internships."
Niko Duffy, Team Highwire's team lead and a systems engineering freshman from Huntsville, says learning how to effectively communicate and integrate different ideas was a challenge.
"Although we struggled with integrating our parts in the beginning, in the end we had very good communication and succeeded because of it," Duffy says.
All the teams overcame challenges getting over technical hurdles, time management requirements and the need for teamwork, says Tristan Carter, the SHC's AutoSat program manager.
"By technical hurdles, I mean all the research and learning that goes into being able to make a working CanSat. Circuit design, new programming languages ​​and software, hardware integration, fiberglass lay-up, intricacies associated with 3D printing and numerous more that are required to have a functional CanSat," Carter says.
"As for time management, being able to balance classes, CanSat and jobs are incredibly challenging, especially when you are trying to put your best foot forward," he says. "The biggest takeaway every year ends up being how to manage your time in a more efficient manner."
The teams are already looking forward, Carter says.
"Many of this year's CanSaters are excited and poised to hit next year's competition with all of their experience and lessons from this year."
Spaceshot
| Name | Role | Major | Year | Hometown |
| --- | --- | --- | --- | --- |
| Haylee Winters | Team Lead | Electrical Engineering | Sophomore | Catlettsburg, KY |
| Lucas Thelen | Software Sub-Team Lead | Computer Science | Freshman | New Glarus, WI |
| Aidan Barton | Electrical Sub-Team Lead | Electrical Engineering | Sophomore | Spring Hill, AL |
| Hunter Omary | Electrical Team | Electrical Engineering | Sophomore | Enterprise, AL |
| Noah Poe | Mechanical Sub-Team Lead | Mechanical Engineering | Sophomore | Madison, NC |
| Gabe Whitlock | Mechanical Team | Mechanical Engineering | Junior | Taylorsville, KY |
| Noah Womack | Mechanical Team | Mechanical Engineering | Sophomore | Freeport, FL |
| Stephen Zelek | Mechanical Team | Mechanical Engineering | Sophomore | McHenry, IL |
Star Saber
| Name | Role | Major | Year | Hometown |
| --- | --- | --- | --- | --- |
| Tristan McGinnis | Team Lead | Computer Science | Freshman | Wetumpka, AL |
| Ethan Reiland | Software Sub-Team Lead | Computer Science | Sophomore | Downingtown, PA |
| Ocean Bowling | Electrical Sub-Team Lead | Aerospace Engineering | Freshman | Louisville, KY |
| Ethan Child | Electrical Team | Aerospace Engineering | Freshman | Elko, NV |
| Peyton Crosby | Mechanical Sub-Team Lead | Mechanical Engineering | Junior | Wetumpka, AL |
| Dawson Wakefield | Mechanical Team | Aerospace Engineering | Senior | Haleyville, AL |
| Shobu Hasegawa | Mechanical Team | Aerospace Engineering | Sophomore | Shizuoka, Japan |
| Meghan Gracey | Mechanical Team | Aerospace Engineering | Freshman | Raleigh, NC |
Highwire
| Name | Role | Major | Year | Hometown |
| --- | --- | --- | --- | --- |
| Niko Duffy | Team Lead | Systems Engineering | Freshman | Huntsville, AL |
| Sam Quartuccio | Software Sub-Team Lead | Computer Engineering | Freshman | Charleston, SC |
| Joel Barnes | Software Team | Aerospace Engineering | Sophomore | Brentwood, TN |
| Youri Ferraro | Electrical Sub-Team Lead | Electrical Engineering | Sophomore | Mobile, AL |
| Bryce Ziyenge | Electrical Team | Electrical Engineering | Freshman | Huntsville, AL |
| Nick McGarry | Mechanical Sub-Team Lead | Mechanical Engineering | Freshman | Louisville, KY |
| Connor Porthouse | Mechanical Team | Aerospace Engineering | Freshman | Baton Rouge, LA |
| Tony Lope | Mechanical Team | Physics | Sophomore | Newnan, GA |
| Zeke Kuntz | Mechanical Team | Aerospace Engineering | Freshman | Denver, CO |
---