ROCK RAPIDS—Lyon County granted a partial property tax exemption for Diversified Technologies on June 14 as the manufacturing company looks to expand its campus north of George.
The board of supervisors' unanimous decision is part of a two-part approval for the Diversified Technologies deal, which heads to the Iowa Economic Development Authority for final approval in July.
County development director Steve Simons presented the resolution to the board.
"We're here today with an opportunity that will benefit Lyon County and one of our leading employers," Simons said.
He was joined by Diversified Technologies with company representative Mike Domnick.
"We want to do everything we can be that employer who can keep employees in our county," Domnick said.
Since the company is headquartered outside the George city limits, the county has jurisdiction over Diversified Technologies, the parent of Sudenga and Dur-A-Lift. The two entities make grain-processing equipment and industrial bucket trucks, respectively, and share the campus in east Lyon County.
The company estimates it will save about $350,000 over five years if the state grants its fullest possible exemption. The total building expansion will be worth $8 million without counting the equipment inside.
Lyon County passed a resolution in 1987 that phases out industrial property tax abatements such as the one Diversified Technologies is seeking. In that model, the county would descend through 75, 60, 45, 30 and 15 percent of exempt tax value over time.
The project will be an expansion of the Sudenga part of the campus. Simons said the company will add 10 new jobs and "smooth the tracks" financially.
"They're making a huge investment, potentially, in Lyon County," Simons said. "That benefits the county and benefits them as a manufacturer that's been here since 1888, before all of our time."
The business is one of the oldest in the area. Sudenga started the brand in 1888 and Dur-A-Lift came exactly a century later in 1988.
The rural George site welcomed a visit from Gov. Kim Reynolds in March, her second time at Diversified Technologies.
Simons noted that Diversified Technologies is Lyon County's second-largest employer with 230 workers. First is Grand Falls Casino & Golf Resort northwest of Larchwood with 450 employees.
Domnick said another benefit of the business-friendly deal is it would maintain the company's connection to the county. He said his company would prefer to break ground this year while targeting completion in 2023.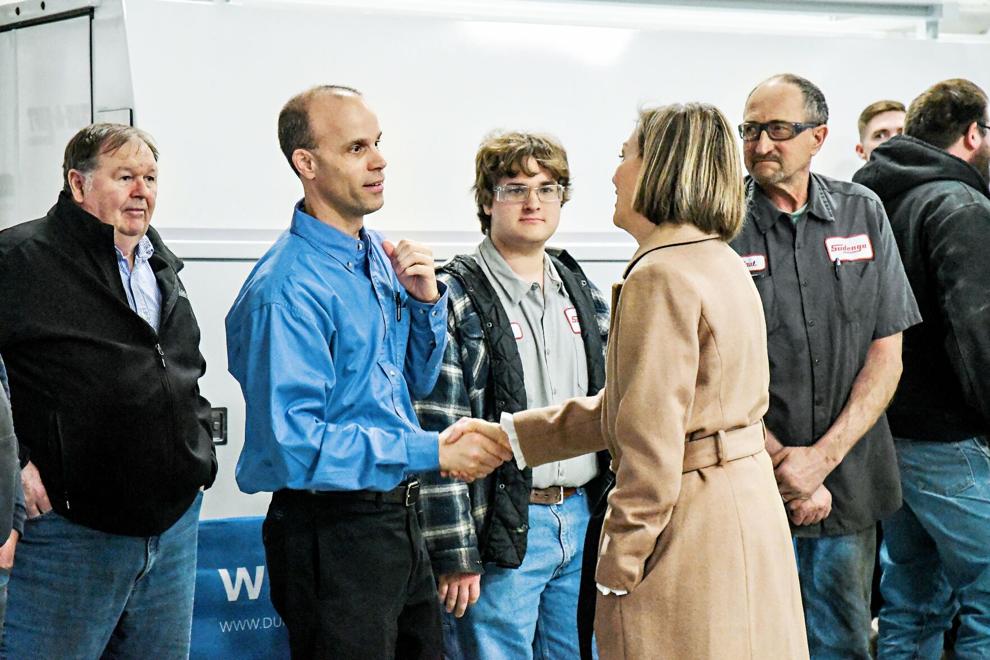 "Doing something like this does attract people to stay there. In fact, I got a guy starting next Monday — who's been driving to Sioux County for years — that's coming on board," Domnick said. "I'm excited about it. I think it's a good opportunity for us, for Lyon County. I appreciate any help you guys can give us."
The county board was quickly in support, although supervisor Steve Herman questioned if the county should be giving a handout to one of the larger companies in N'West Iowa. His fellow board members assured him it was the right move.
"It's different than deciding to give money to a business or individuals," supervisor Josh Feucht said. "This is a completely different animal."
Auditor Jen Smit explained the legal specifics of the deal.
"You're not determining anything new than what you already have in place. Really, it's a resolution of support," Smit said.
Preceding the 5-0 vote in favor of the deal, Simons added that it was rare for the county to make a large investment like this, and he is excited to see one of its star businesses grow.
He explained that since Diversified Technologies also is seeking funding from the Iowa Economic Development Authority, its application is boosted by showing it has local support. The tax break, which already was on the books, was the simplest way for the county to match its philosophy with its pocketbook.
"Part of that is local participation — which would be the supervisors and the county — to make sure the area has skin in the game for a project they're willing to help fund," Simons said.
.