If a zombie apocalypse ever occurs and takes out communications systems, Devon Wengeler will be ready.
The 11-year-old Rathdrum amateur radio enthusiast obtained his ham radio license several months ago.
"Everybody else in my family had one," Devon said Friday morning.
Devon, his family and other members of the Kootenai Amateur Radio Society will be communicating via radio channels this weekend during the 2022 Amateur Radio Field Day, a 24-hour operation that began at 11 am Saturday and goes through 11 am today.
Locally, members of the Bonner County Amateur Radio Club will be participating in Field Day exercises at Forrest Bird Charter School. In addition, the group will be in radio contact with the Bonner County Amateur Radio Services at the Edgemere Grange and at the Post Falls event.
Events are taking place from 7 am to 1 pm today at the charter school. A pancake breakfast will be served from 8:30-9:30 today.
Several stations will be on site at society member Frank Krug's property at 2130 N. Meyer Road, Post Falls. Ham radio operators will work through the night to make as many connections via radio wave as possible.
"For us, it's a big deal to get set up," said Kootenai Amateur Radio Society Board President Ed Stuckey. "We normally don't have a bunch of radio stations and a bunch of people all together like this."
Amateur Radio Field Day began in 1933 and has been conducted by Kootenai Amateur Radio Society since at least 2004. It serves as an annual preparedness exercise to test the ability of amateur radio operators throughout North America as they set up and operate their stations under simulated emergency conditions. It also provides an opportunity for the ham radio community to interface with the general public and allows prospective hams to experience the magic of amateur radio communication.
"I like the community," said Devon's mom, Tami Wengeler. "I got a license and showed up to a meeting and they put me to work, but beyond that I had somebody come out the next week to help me out with an antenna to get me started. If I need help, there's somebody there to help me."
Operators will use ham radios and morse code instruments to communicate with operators in the US and Canada. Sometimes signals are received from as far away as Japan.
"They're excited to talk to Idaho because we don't have as many amateur radio operators in Idaho," Stuckey said.
He said ham radio has increased in popularity in recent times.
"There's been a huge inrush of people who have a fear that the world is going to end," he said.
Kootenai Amateur Radio Society executive director Mike Glauser explained that sun and weather activity both impact ham radio communications. He said the science behind ham radio is intriguing.
"I want to welcome people and maybe have guest operators," he said. "The conversation one on one is just as important as making as many contacts as possible."
He said one thing really cool about their club is how diverse the members are in their beliefs and politics.
"We're communicators, so we need to be an example," Glauser said. "How do we have contentious, diverse conversations, yet stay respectful and be better friends at the end, even if you're completely opposite in your political stance? We do that. I am so proud of that."
Society member Jerry Hart will be operating using his "go box" radio he crafted. He has been a ham radio operator for 34 years. He said ham radio operators often help when emergencies take place in remote areas, such as when a search party is deep in the woods looking for a lost hiker.
"We want to let everyone know what we're doing because we are an untapped resource," Hart said.
Society member Mark Mayer made another point about the uniqueness of amateur radio operation.
"The important thing is there are no third party people or companies involved," he said. "It's air. Air space."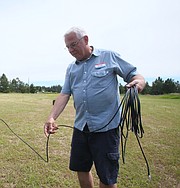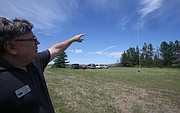 Info: k7id.org